Open
&nbsp
E - Fulfillment service:
In order to provide convenience for on-line shopping, Circle K partners with the following websites by offering 24 hrs pick-up service for their shoppers.

SF Express, Kingstone.com.tw (the largest online bookstore in Taiwan), Sanmin.com.tw, Tihuotong.com, Nike, Morning Express, Buyandship, Royale, DHL and Taiwan FamilyMart:
Customers can pick up goods at most of Circle K outlets.

For address of designated outlets, please click download button

Return service :
Return service for selected merchants (including Zalora and Love Bonito) are available at Circle K. Customers can register the return goods at merchant's website, get a return QR code and drop off the parcel at selected stores anytime. For the details, plesae check with merchants' website
Open
&nbsp
Customers can check the parcel location by using its Waybill Number.

Please click the above icon to enter parcel tracking system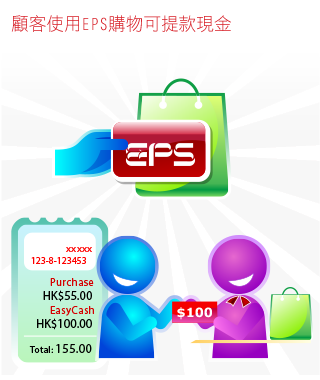 Customers can withdraw cash anytime at all Circle K outlets upon purchase with EPS.
&nbsp
Circle K provides ticketing service for prestigious events held in HK, e.g.

- HK Book Fair
- Ani- Com & Games Hong Kong (ACGHK)
- Food Expo

&nbsp
Customers can settle the bills for more than 250 merchants and organizations at all Circle K outlets. It is so convenient!!

Merchants and organizations including

- Public Utility
- Telecommunication Services
- Government or Statutory Organization
- Catering Services
- Credit Services
- Education Institution
- Property Management
- Travel Agency
- Insurance Company
- Others

Customers only need to bring along the bill. Our staffs will help to take care all procedures.


&nbsp
A wide range of Prepaid SIM, Data SIM and Top-Up Value Vouchers from different telecommunication service providers are available at all Circle K outlets in order to satisfy both the needs of local citizens and tourists.
- Travel Data Sim (Japan, Korea, Singapore, Malaysia and Thailand etc..)
- SMARTONE
- CHINA MOBILE
- CHINA UNICOM
- csl
- TELKOMSEL Indonesia
- 3HK Voucher
- CHINA MOBILE Voucher
- CHINA UNICOM Voucher
- csl Voucher
- EASYCALL Voucher
- CMHK REKANAN Voucher
- CMHK KABAYAN Voucher
- YF Voucher

Open
&nbsp
Circle K provides an up-to-date and comprehensive range of on-line games together with top- up products. Fun Anytime. Fun Anywhere.

For a details list of game products, please click download button.
&nbsp
A comprehensive range of Top-Up products/ vouchers are available at all Circle K outlets, including on-line shopping, telecommunication service and online game)

Gift card:
- iTunes Gift Card
- Google Gift Card
- PlayStation™ Network Gift Card
- STEAM Gift Card
- Netflix Gift Card
- Tap & Go Card
- MasterCard Variable Card
- UnionPay Variable Card
- Zalora Gift Card
- Spotify Gift Card
- JOOX Gift Card
- KKBox Gift Card
- MOOV Gift Card
- MINECRAFT Gift Card
- Nintendo Ecash
- Xbox Live Gift Card
- GOGOVAN Driver Top Up Voucher
- Dimbuy Dollar Top-Up Voucher
(Valid for Dimbuy delivery service settlement)

Top-up Product:
-Octopus card Reload
-iTunes Pass Top-Up
-Tap & Go Top-Up
-AlipayHK Top-Up
-WeChat Pay HK Top-Up
-TNG Top-Up

&nbsp
Understand the hassle of smartphone battery running out when people are on the go. Circle K launched powerbank rental service ($20 for 3 days),deposit $200. *Except MTR stores.
&nbsp
Circle K provides facsimile service at designated 300 outlets. Service fee for facsimile is HK$ 6 per page.

Besides, postage stamps with denomination of $2.2 (10 pcs per pack) is available at all Circle K outlets.
Open
&nbsp
Customers can make cash donation conveniently via any outlets of Circle K.

For the full list of Charity Organizations, please click download button
&nbsp
Customers can conveniently top up the Octopus using cash throughout all Circle K outlets.

Moreover, customers can check the last 10 transaction records by requesting a print out. HK$3 will be charged for each print out.